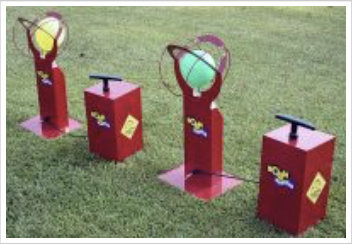 Balloon Blaster (2 Units)
The Speed-Pumpin', Balloon-Bustin' Challenge Game! Boom Blaster combines the excitement of a ballon-popping contest with a safe, authentic-looking blasting detonator straight from the Saturday morning cartoons. Two or more players frantically pump, inflating their balloon-bursting arcs. First to burst - BOOM! - is the winner. (Small, well-labled points help burst balloons when they reach air capacity). The game provides fabolous visual fun and excitement for all ages, indoors and out, year round. This package includes Balloon Blasters and 1 pack of 144 balloons.( When you order 2 units) Additional Balloon packs are available via our website.
Price is for 2 units.